IPS e.max®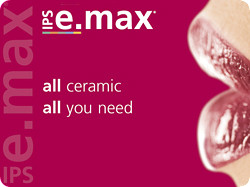 The demand for aesthetic all-ceramic restorations is continuously increasing. Depending on the case at hand and the preoperative situation, you can provide your patients with individual restorations that exhibit impeccable aesthetics and the required high mechanical stability, since IPS e.max comprises highly aesthetic and high-strength materials for both the PRESS and CAD/CAM technique. The restorations are suitable for both adhesive and conventional cementation.
IPS e.max® is an advanced pressed ceramic with even greater strength than the original Empress product. This next generation ceramic is formulated from lithium disilicate crystals, and can be used to create limited bridgework with moderate to heavy connectors. It is monolithic lithium disilicate porcelain that can be pressed or milled as full contour restoration, or cut back and layered with porcelain.
Highlights
• Highly aesthetic and high-strength all-ceramic materials can be combined
• One layering ceramic for the IPS e.max system
• Predictable shade results and similar clinical behavior even in different restorations veneered with IPS e.max Ceram
• Lifelike aesthetics independent of the shade of the prepared tooth
• Adhesive and conventional cementation
Glass-ceramics
Reinforced glass-ceramics has been successfully used in all-ceramics in press technology for 15 years. Glass-ceramics can not only be just pressed but also milled by means of a state-of-the-art CAD/CAM technique.
IPS e.max Press are new highly aesthetic lithium disilicate glass-ceramic ingots with optimized homogeneity and high strength. They allow the fabrication of restorations with a high accuracy of fit. The strength of 400 MPa which has been unmatched to date by glass-ceramics enables conventional cementation.
Benefits
• Extremely esthetic with beautiful translucence
• 3 times stronger than Empress
• 400 MPa flexural strength
• Can build on dentin and enamel porcelains OR stain as full-contour
• Metal free
Contraindications
• Bridge spans exceeding 3 units
• Bridges beyond the second premolar as an abutment tooth
• Not suitable for bruxers or patients with other occlusal dysfunction
Preparation
• For anterior crown: Reduction of 1.5-2.0mm at the incisal, 1.5mm lingual, 1.5-1.0mm facial, and 1mm-1.5mm at the cervical of the prep with a deep chamfer or shoulder finish
• For veneers: 1.0-1.5mm facial reduction; thin veneers may require some reduction depending on the bulkiness or orientation of the tooth
• For inlays and onlays: A shoulder margin with 1.5-2.0mm isthmus width is required, 1.5mm isthmus depth, and a 1.0-1.5mm isthmus floor
Cementation
• Cementation using standard cementation materials and technique or chemically bonded
• For veneers and inlays, bonding is required and is also recommended for crowns and bridges to achieve maximum strength

" Choose between traditional e.max Press ingots or CAD/CAM-fabricated e.max CAD blocks "
Why a monolithic e.max crown?
The weak link in any PFM crown or any zirconia crown is not the coping. Cast metal or milled zirconia copings are both strong enough (>1000mpa), but the interface between the coping (25-40mpa) and the porcelain veneer (90-110mpa) built to cover the coping, are inherently weaker. Most observers agree, ceramic failures, whether on metal or zirconia, fail at these two "weak" points.
Through staining or cutback technique, An e.max pressed "Monolithic" crown has no interface, and no layered veneer. And because the ceramic ingots are blended with dentin colored and translucent ceramics, these crowns match dentition with natural translucency in cusp/incisal tips. Our specialized technicians choose from a variety of ingots such as LT, MT, HT, Impulse, and the newly-released Multi ingot.
IPS e.max Press MultiThe world′s first polychromatic press ingot
This material demonstrates a lifelike shade progression from the dentin region to the incisal areas and therefore imparts monolithic restorations with a highly esthetic appearance. The new IPS e.max Press Multi ingots will revolutionize the press technique. They are composed of the clinically proven lithium disilicate glass-ceramic (LS2), which exhibits a high strength of 400 MPa. The ingots show a graduated level of shade and translucency similar to that of natural teeth: The chroma and opacity of the material are higher in the cervical and dentin region, and the incisal areas are suitably translucent
Additional information: